Antonio Vivaldi
Concerto for 2 violins and cello RV 578a, I. Adagio e spiccato, II.Allegro (L'Estro Armonico, Amsterdam, 1711) in the arrangement by Pisendel (Dresden Manuscript)
Johann Sebastian Bach
Violin Concerto in D minor BWV 1052R
Transcription by JS Bach from the harpsichord concerto BWV1052 (1738)
Steve Reich
Electric Counterpoint, III. : Fast (New York, 1987)
Arrangement by Reynier Guerrero and Franck-Emmanuel Comte
Christophe Graupner
Le désire, extract from the Overture GWV 445
Charles Avison
Concerto grosso op.6 Nos.3 and 5 (excerpts from Concertos in seven parts based on the lessons of Domenico Scarlatti, 1744)
- Largo (Concerto No. 5)
- Vivace (Concerto No. 3 / after the Sonata for Harpsichord K.38 by D. Scarlatti)
- Allegro spirituoso (Concerto No. 3 / after the Sonata for Harpsichord K.37 by D. Scarlatti)
Antonio Vivaldi
Concerto No. 10 for 4 violins RV 480 (L'Estro armonico, Amsterdam, 1711)
Karl Aage Rasmussen
The Four Seasons, after Antonio Vivaldi, III. Presto (Il cimento dell'amornico e dell'invenzione, Amsterdam, 1725) 
Stefan Plewniak, violin solo
Reynier Guerrero, violin
Florian Verhaegen, violin
Véronique Bouilloux, violin
Sayaka Shinoda, violin
André Costa, violin
Aurélie Métivier, viola
Myriam Cambreling, viola
Aude Walker-Viry, cello
Clara Fellmann, cello
Nicolas Janot, doublebass
Nicolas Muzy, theorbo and guitar
Franck-Emmanuel Comte, direction and harpsichord
Création lumière et vidéo en réflexion
On stage:
6 violons, 2 altos, 2 violoncelles, 1 contrebasse, guitare/théorbe, clavecin
Au 18ème siècle, les œuvres concertantes pour violon, l'instrument virtuose par excellence, adoptent une écriture idiomatique et de plus en plus exigeante. Mais dans l'œuvre de Vivaldi et Bach, elles conservent un bel équilibre entre invention mélodique, art du contrepoint et virtuosité, sans jamais tomber dans un excès de cabotinage, qui sera, hélas, la marque des œuvres de la fin du 18ème siècle. Au-delà de la mise en valeur du ou des solistes, c'est surtout l'art de la rhétorique qui prévaut dans ce répertoire. A l'image du siècle des lumières où l'on recherche avant tout un équilibre entre expression individuelle et règles de vie collective, le concerto pour violon de ces grands maitres x comme un dialogue mutuellement enrichissant entre un individu et un collectif.
Mais au-delà de la rhétorique concertante qui émanent de ce répertoire, c'est plus encore les multiples métamorphoses nées de la créativité et de l'admiration mutuelle des compositeurs que nous souhaitons mettre en lumière dans ce projet. À une époque où l'emprunt musical étaient considéré comme une marque de respect, les œuvres les plus appréciées subissaient ainsi de multiples transcriptions ou arrangements, ce qui contribuait à leur donner de nouvelles couleurs ainsi qu'une notoriété nouvelle. Nous découvrirons ainsi comment Pisendel réinventait Vivaldi (son ami), comment Avison rendait hommage à Scarlatti ou comment Bach se parodiait lui-même. Un passage par le 21ème siècle où nous écouteront l'hommage de Jenkins à Corelli conclura notre programme.
Au-delà du rapport entre la création initiale de l'œuvre et de sa réappropriation, ce projet est aussi un outil majeur de développement musical pour le Concert de l'Hostel Dieu. Collectif soudé et efficient, l'ensemble est constitué d'instrumentistes qui, bien que de nationalités et de générations différentes, sont tous d'anciens élèves du CNSMD de Lyon, et plus particulièrement de la classe de violon baroque d'Odile Edouard. Ils ont ainsi acquis au cours de leurs études tout d'abord, puis dans l'exercice de leur métier au sein du Concert de l'Hostel Dieu, des réflexes musicaux communs et partagent une exigence particulière dans la démarche interprétative. Accueillir un soliste charismatique et créatif tel que Stefan Plewniak contribuera à dynamiser le fonctionnement de l'ensemble, à élargir son champ d'inspiration et à approfondir sa maitrise du style concertant. Un projet inspirant que nous prendrons le temps de travailler en détail lors d'une résidence artistique dans la ville de Chatillon-sur-Seine puis en concert à Saint-Donat et Lyon.
Franck-Emmanuel Comte
The art of metamorphosis in the concertante style...
To transcribe, adapt or orchestrate the works of others was considered a musical homage in the eighteenth century. When Avison adapted Scarlatti's sonatas for string orchestra, he gave them a new setting and a new colour by adopting the form of the Concerto grosso. But when Rasmussen transposes Vivaldi's Four Seasons into a contemporary aesthetic universe, a whole new aesthetic-temporal space is opened up to us. Our challenge: to invent new early music for a wide audience.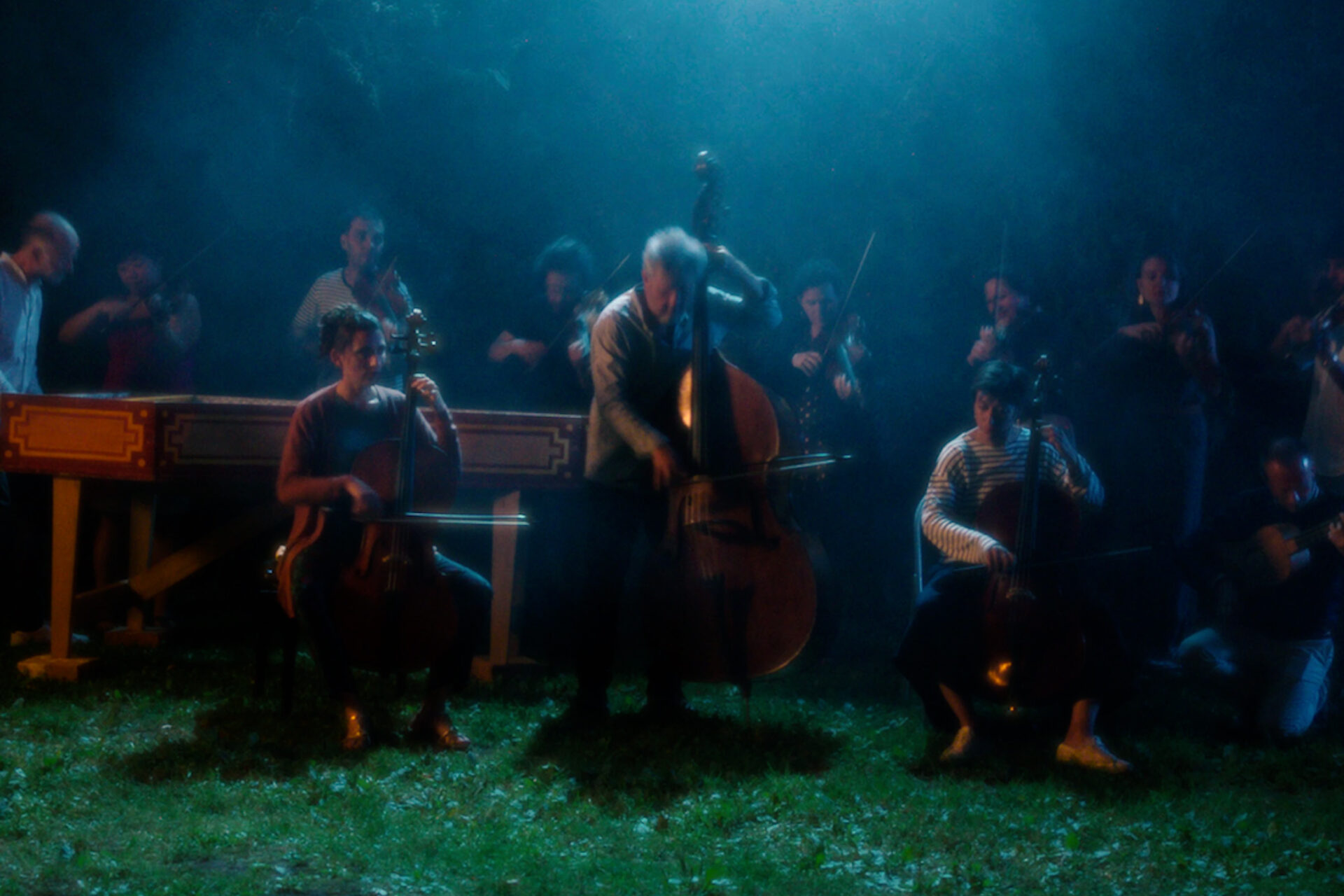 On tour - July 2023: concert version
Season 2023/2024: search for a residency for a stage creation
On tour - Season 2023/2024</strong : stage version