First and foremost, we advocate for the originality and uniqueness of our regional repertoire by bringing baroque manuscripts preserved in the archives of Auvergne-Rhône-Alpes into the spotlight. To this end, every season we premiere reconstructions and create modern editions of these unpublished manuscripts of musical works exemplifying the historical cultural ties Lyon and its region maintained with Italy.
Transposing the diversity of baroque music into our modern era is another of our principal artistic objectives. By nourishing our work through stimulating artistic collaborations, we create opportunities for baroque aesthetics to come in contact with cultures and artists of diverse backgrounds. Reimagining concert formats, our creative endeavors also seek to engage audiences of diverse generations and geographic origins.

Organize our ensemble as an artistic collective, through the collaborative project construction (teams, partners, exchange networks), and through participative management of the association (shared governance, horizontal organization).
Make our repertoire accessible to a wider audience , using an intergenerational and multiregional approach, endeavoring to transmit our musical and humanist message to all communities with spontaneity and generosity, whether or not they are music connoisseurs.
Transmit our knowledge, our savoir-faire, and our passion , to young audiences and communities with limited access to cultural activities with a spirit of solidarity and sharing. Support young professionals through educational and integration initiatives.
Step up to the challenges of sustainable development:
• In order to fight against discrimination, Le Concert de l'Hostel Dieu commits to promoting its values of gender equality, diversity, and the environment.
• Protect the planet and align all of our production, organizational, and audience reception initiatives with the principles of sustainable development and respect for the environment. For these reasons, the ensemble is a member of the ARVIVA and HF AURA.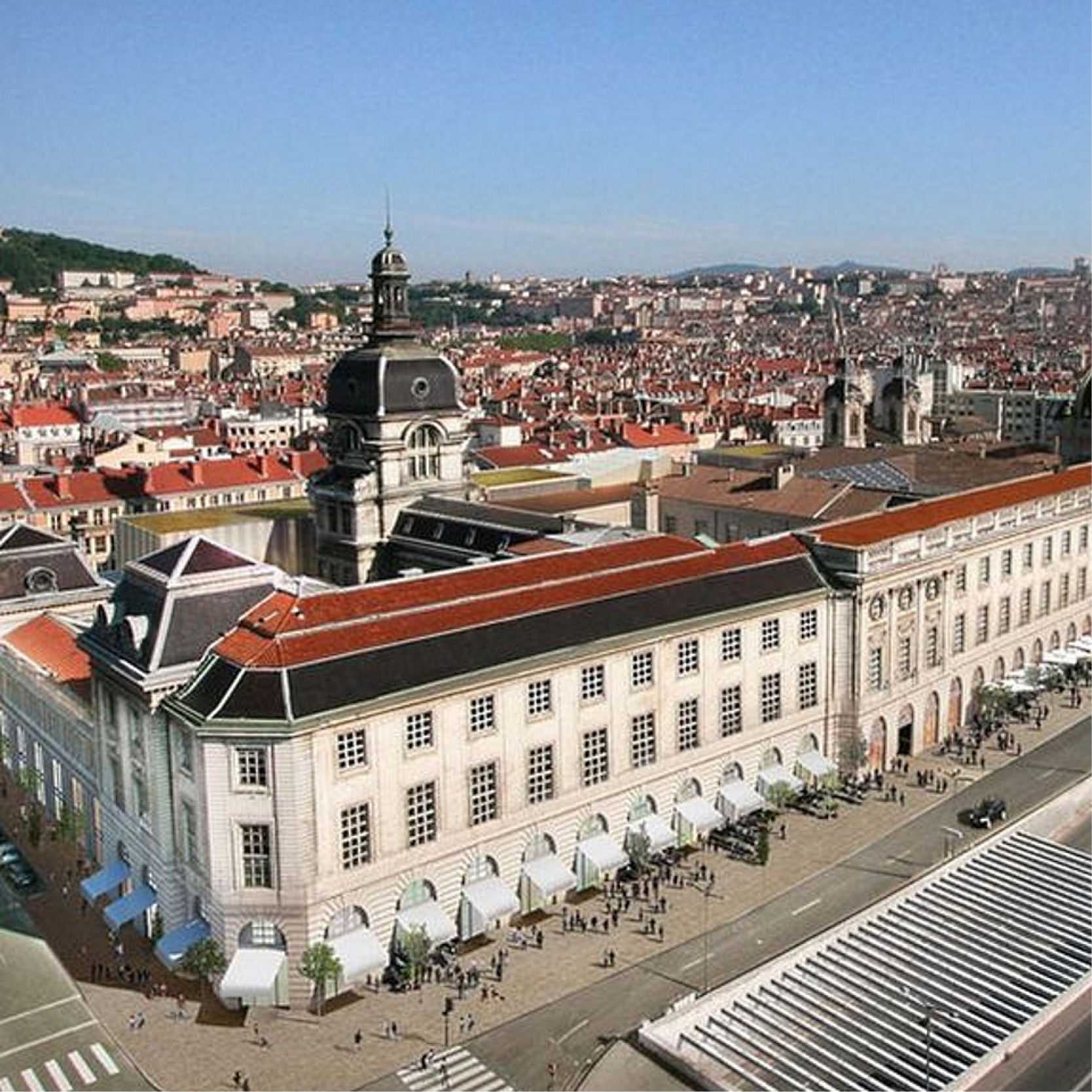 Our ensemble was created in December of 1992 by Franck-Emmanuel Comte, at the time a student at the CNSMD de Lyon. With the support of the doctors of the centuries-old Lyonnais medical institution Hôtel-Dieu, the ensemble presented two concert seasons from 1992 to 1994 on the campus of the Grand Hôtel-Dieu (in the chapel, courtyards, and refectory). Our experiences during those years created close ties with the Lyonnais public as well as local communities, who quickly gave their support. In 1994, the ensemble left the medical institution's campus and began performing in various auditoriums and churches throughout the Lyonnais metropolitan area.
We ultimately developed an extramural season, initially self-produced, then later in cooperation with different regional cultural institutions. In the 2000s, we established our reputation in France and then abroad, through numerous concert tours. We recorded our first CD in 1997 (Alceste/G.F. Handel), which was followed by more than 20 other recordings. The most recent, released in October of 2020 (La Francesina / G.F. Handel), received numerous accolades from the international press, and was named "Disc of the Year 2021" by the International Classical Music Awards in the category of "Baroque Vocal".
In addition to our frequent concert performances, we regularly pursue additional enriching artistic collaborations. Over the course of our existence, we have participated in musical exchanges with a variety of European ensembles: this has included the reciprocal hosting of partner ensembles' conductors or artists, as well as the entire partner ensemble. We collaborate in this way with the Collegium Musicum of Riga, the Portuguese ensemble Divino Sospiro, and the Italian ensembles L'Astrée and Les Nations.
We have also developed and realized collaborative projects with artists and ensembles from outside of Europe. These projects have led to residencies and concert tours both in France and in our collaborators' host countries. The fruits of these collaborations, including concert tours of India and China during recent concert seasons, attest to the personal and artistic benefits of such collective creations.
In 2021, and despite the considerable restrictions on our concert schedule imposed by the Coronavirus pandemic, we have presented 14 performances in Russia, Italy, Belgium, Switzerland, and Germany.