PERGOLÈSE, UN AUTRE STABAT
PROGRAMME
Giovanni Battista Pergolesi : Stabat Mater – manuscrit lyonnais
Anonyme : polyphonies traditionnelles napolitaines et tarentelles…
—————–
C'est la restitution du manuscrit inédit du Stabat Mater, conservé à la Bibliothèque de Lyon, que Le Concert de l'Hostel Dieu interprète. Une version pour cinq solistes, qui dépasse le caractère éthéré que l'on connait si bien pour donner à l'œuvre une dimension dramatique et théâtrale exacerbée. Mêlées aux versets du Stabat Mater, polyphonies traditionnelles et tarentelles napolitaines envoûtantes plongent l'auditeur dans l'univers de la Semaine sainte à Naples où se côtoient, dans les églises et sur leurs parvis, musiques sacrées et musiques profanes. Une alternance qui souligne les liens entre l'héritage populaire du sud de l'Italie et le talent cosmopolite de Pergolèse.
« […] la formation baroque lyonnaise Le Concert de l'Hostel Dieu, dont le fondateur Franck-Emmanuel Comte, avait imaginé un programme fort original autour du Stabat Mater de Pergolèse, qui a enflammé l'église St Vincent de Nyons. Entrelardant le chef d'œuvre bien connu d'autres pièces empruntées tant au répertoire savant qu'à la musique populaire, les Lyonnais ont fait souffler sur la capitale de l'huile d'olive un vent d'Italie du Sud, où tarentelles endiablées et chaconnes lancinantes ont fait sortir la musique de Pergolèse des ors des salons pour la plonger au cœur des rues napolitaines. »

Christian Merlin, Le Figaro, juillet 2017
—————–
Since the middle of the 18th century, Pergolesi's Stabat Mater has been an absolute triumph all over Europe. In Lyon's library, one finds a very unusual manuscript of the piece: apart from a few minor modifications in the instrumental parts, the second solo voice part is entrusted to a baritone, while the fugues and verse "O quam tristis" are arranged for five voices. Thus, the Latin poem takes on a whole new dimension, gaining theatricality and dramatic emphasis.
In order to accompany this dramatization of the Stabat Mater as well as nourish its intention, we have integrated traditional Neapolitan polyphonies, songs and tarantellas. This juxtaposition of scholarly music and popular art, of the sacred and the profane, conveys the Neapolitan soul.
Our approach is therefore both musicological and socio-historical, by integrating the cultural and traditional Neapolitan background. Above all, it is a purely personal and subjective approach, born from a fusion of personal taste for Italian music and the emotion felt during a timeless Italian voyage.
En partenariat avec la Bibliothèque municipale de Lyon
DATES
20 novembre 2018
St John's Smith Square – Londres (UK)
18 novembre 2018
Chapelle de l'Hôtel-Dieu – Lyon (69)
17 juillet 2017
Festival Saoû chant Mozart – Nyons (26)
16 juillet 2017
Festival de Musique ancienne de Callas (83)
27 juin 2017
Festival Les BaroQuiales de Sospel (06)
5 août 2015
Festival Valloire baroque (73)
6 juillet 2015
Festival Lyly (69)
3 juillet 2015
Festival d'Art sacrée d'Evron (53)
19 avril 2014
CCR les Dominicains de Haute-Alsace (68)
12 septembre 2013
Église Saint Germain (75)
30 août 2013
Châtillon-sur-Seine (21)
9 août 2013
CMI J.-S. Bach de Saint-Donat (26)
27 juillet 2013
Festival Les Arts Jaillissants (73)
7, 9 & 10 avril 2013
Saison lyonnaise – Basilique d'Ainay (69)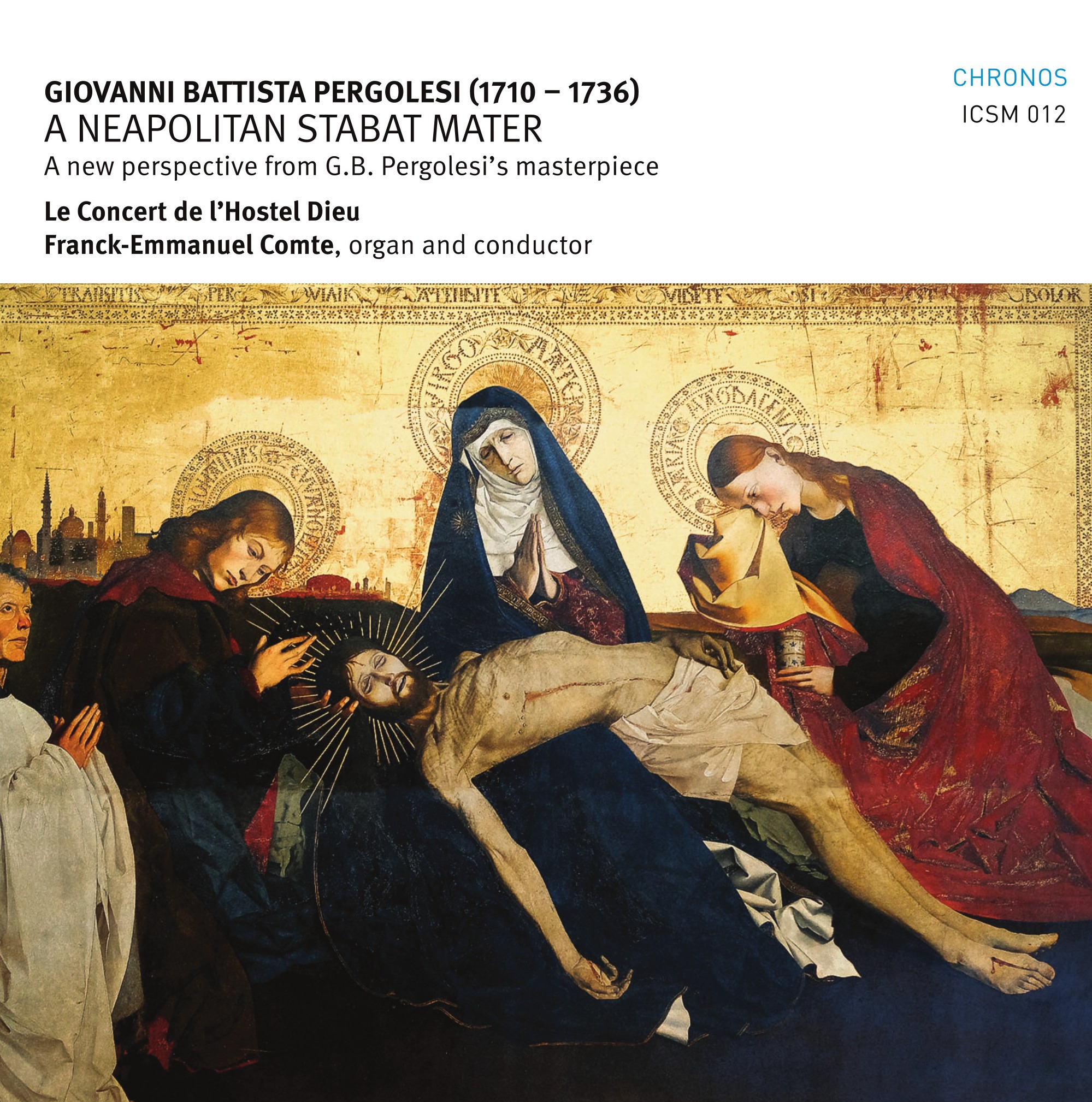 « Attempts at crossover involving medieval and Renaissance repertories often fail for want of boldness […] here, the affects of different provenance demonstrate how the thing ought to be done. […] 
Pergolesi comes out of it very well but it is the extraneous matter that holds the attention, culminating in a rendition of the opening verses of the Stabat Mater in plainchant ornamented according to local costom, of hair-raising intensity.« 
Fabrice Fitch, Gramophone, June 2019
« Comte's production – part whimsy, part scholarship – combined with the excellence of all the performers, made for an inspiring, sparkling and entertaining evening. […]  The singing was perfection from all concerned, but the two upper voices – the soprano Heather Newhouse and the contralto Anthea Pichanick – need special mention.« 
Barry Creasy, Musicomh, November 2018