PROGRAMME
G.-F. Handel : arias et instrumentaux extraits des opéras Alcina, Ariodante, Tolomeo, Cantone in utica
N. Porpora : arias et ouvertures extraits des opéras Polifemo, Mitridate, Arianna in Naxo, David e Bersabea

—————
En 1733, la scène lyrique londonienne est dominée Handel, à la tête de la Royal Academy of Music. Souhaitant contrer cette hégémonie haendélienne, un groupe d'investisseurs issu de la noblesse londonienne crée L'Opera of the Nobility et se donne pour chef de file le compositeur Nicola Porpora, alors considéré comme plus moderne. Pendant les 4 années du compositeur napolitain à Londres, les deux maestros vont se livrer à un duel musical éblouissant, les stimulant l'un et l'autre à composer leurs plus grands chefs-d'œuvre (Polifemo, Ariodante…) et à engager les plus grandes stars européennes telles que les castrats Carestini, Senesino, Farinelli, ou la chanteuse Francesca Cuzzoni.
Avec pour toile de fond cette lutte sans merci, ce duel, qui opposa bien plus les deux institutions londoniennes, qui finiront au bord de la banqueroute, que les deux compositeurs qui s'admiraient mutuellement, le musicologue Stefano Aresi propose une sélection de pages rares. Un répertoire qui offre à Giuseppina Bridelli l'occasion d'exprimer l'étendue de ses talents d'artiste lyrique et de tragédienne.
—————–
In 1733 the London operatic scene was dominated by Handel, at the head of the Royal Academy of Music. Wishing to counter this supremacy, a group of London nobles set up the Opera of the Nobility with Nicola Porpora as the musical director, who was considered more modern. During 4 years, the two maestro engage in a dazzling musical duel, stimulating them to compose their greatest masterpieces (Polifemo for Porpora, Ariodante for Handel …) and to engage the biggest European stars such as the castrates Carestini, Senesino, Farinelli, or the singer Francesca Cuzzoni.
The all-out musical war that waged – more between the two London institutions which went bankrup than between the two composers who admired each other – burns to life once again in this array of rare works selected by musicologist Stefano Aresi. This program gives Giuseppina Bridelli the opportunity to express the extent of her talents as a lyric artist and tragedian.
DISTRIBUTION
Giuseppina Bridelli, mezzo soprano
Le Concert de l'Hostel Dieu
Franck-Emmanuel Comte, direction
Stefano Aresi, conseiller artistique
On stage:
1 soliste, 14 instrumentistes (cordes, basson, hautbois, théorbe, clavecin)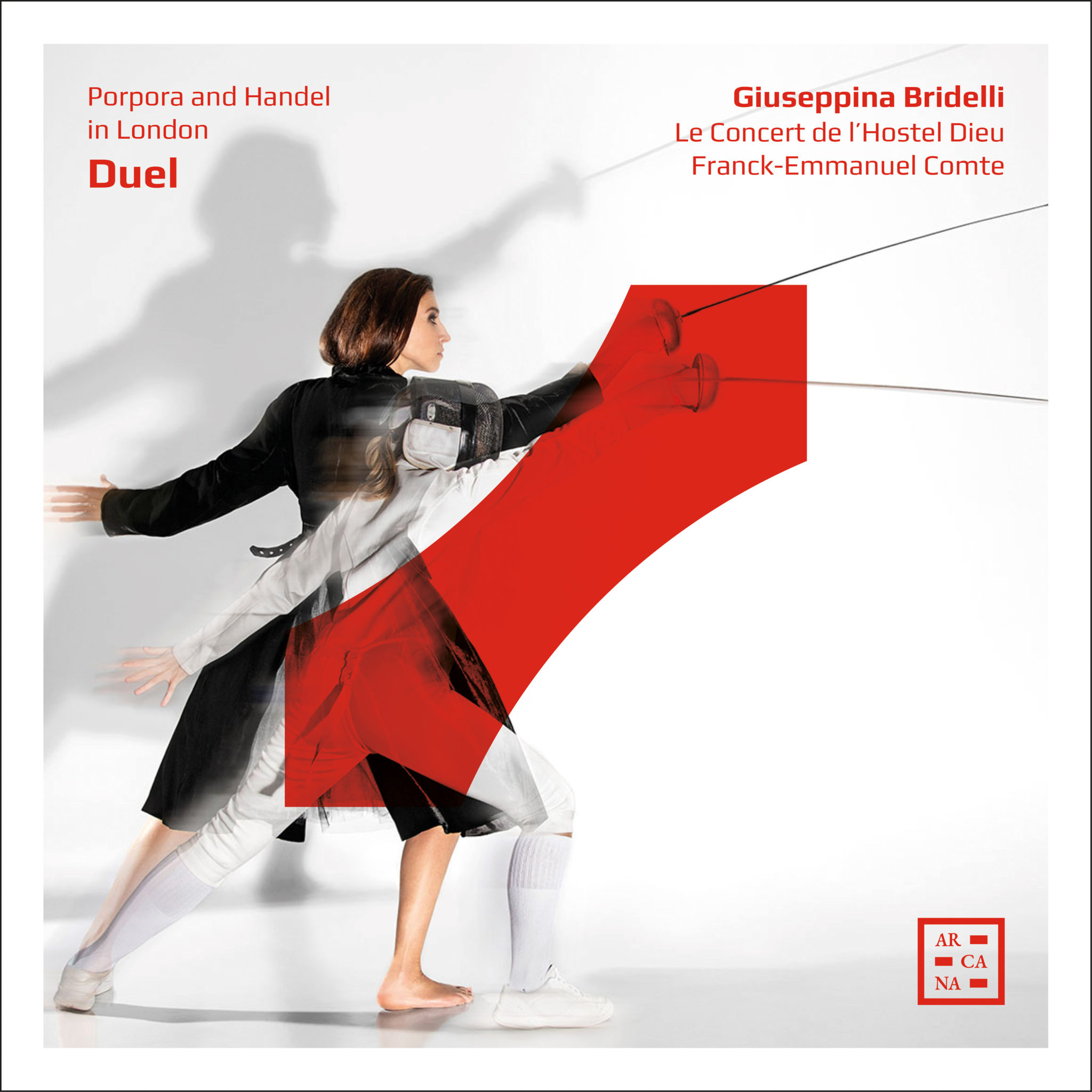 « Anthony Pryer admires how Giuseppina Bridelli's strong mezzo showcases Handel's great operatic rival. »
Performance **** / Recording ****
07/2019 – BBC MUSIC MAG – OPERA choice 
« Giuseppina Bridelli's technical brilliance is stunning and in the midst of the cascades of tones she also finds time to be expressive. The playing of the orchestra is just as stunning and they have tremendous force. »
07/2019 – MUSIC WEB – Göran Forsling
« Un programme très extraverti, dans lequel Le Concert de l'Hostel Dieu dirigé par Franck-Emmanuel Comte brille de mille feux. »
06/2019 – LIVRaisons – Jean Lacroix

« Con la obertura de Polifemo Le Concert de l'Hostel Dieu se luce en mayor medida que en la suit de ballet de Ariodante, desplegando variedad de colores y ritmos contrastados gracias a la buena dirección de Comte, por lo que surge en consecuencia una música irresistible. »
06/2019 – MUNDICLASICO.COM – Raúl González Arévalo
« Cosa che appare ancora piu evidente grazie ad esecuzioni molto accurate, affidata al mezzosoprano piacentino Giuseppina Bridelli et all'ensemble Le Concert de l'Hostel Dieu, complesso fondato a Lione nel 1992 da franck-Emmanuel Comte e specializzato nella musica barocca. […] Un bel CD que si ascolta con molto piacere, anche per la cura nella veste editorale e nell'apparato musicologico ceh lo accompagna. »
06/2019 – MUSICA – Stefano Pagliantini
« Unbedingt erwähnenswert: das Ensemble Le Concert de l'Hostel Dieu, ein kleines, aber feines Barock-Orchesterchen, sehr filigran, sehr fein in den Nuancen, empathisch in der Vokalbegleitung. »
05/2019 – RBBKULTUR, Matthias Käther